3000W 5000W High Frequency Pure Sine Wave Solar Inverter with MPPT charge controller
3000W 5000W High Frequency Pure Sine Wave Solar Inverter with MPPT charge controller
SVC or OEM

Guangdong, China

around 30 days after order confirmed

100000

Smart VMH 5048
High frequency pure sine wave solar inverter for home usage
1. 450V wide PV circuit voltage can work for the load without battery connected (when the energy is sufficient)
2. Built in MPPT solar controller
3. Configurable AC/Solar input priority and output priority via LCD settings
4. Wide and selectable AC input voltage range
5. Multiple protections of battery over discharge, overload, over temperature, short circuit
6. Automatically turn on after the mains is restored
7. Cold start function
8. USB and RS232 monitoring functions



3000W 5000W High Frequency Pure Sine Wave
Solar Inverter with MPPT charge controller
The SMART VMH series is an integrated control machine of pure sine wave high-frequency solar inverter. The controller adopts advanced MPPT calculation method and intelligent battery management to ensure the maximum energy acquisition.
With a wide PV input range, the inverter can be carried without battery when the energy is sufficient. It has the advantages of high-power density, simple operation, high overall efficiency, and small no-load loss. The inverter integrates the 3-in-1 function of solar energy, mains power and battery, which can be used for lighting, computers, televisions and other household appliances and electric tools, as well as small-scale industrial electrical equipment.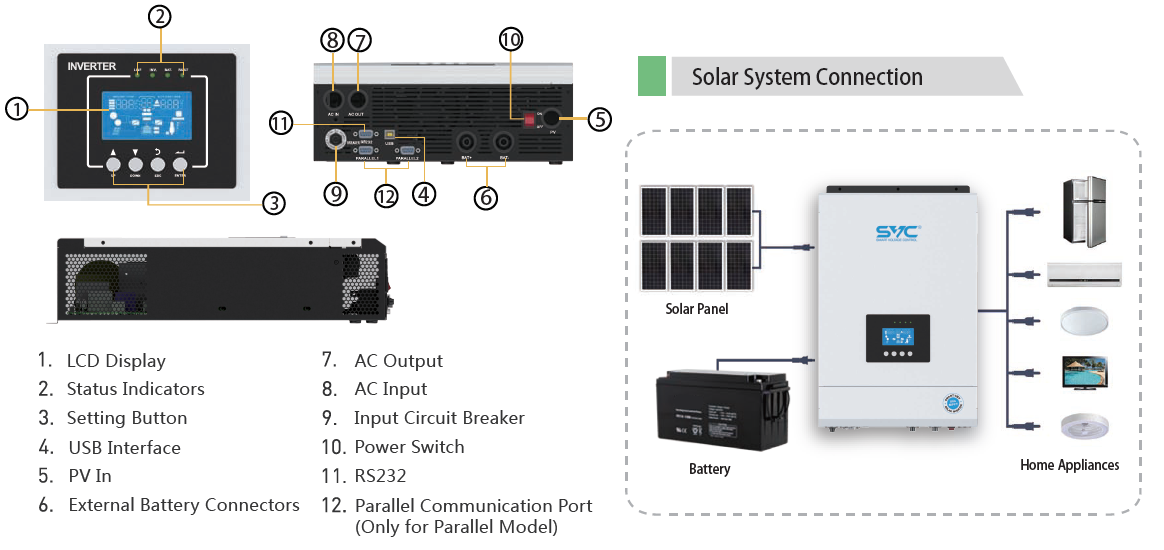 -Household appliances: air conditioners, refrigerators, washing machines, LED light, Energy saving lamp, fluorescent lamp, Incandescent lamp, LCD TV, Electric fan, Electric kettle, Rice cooker, Soymilk machine, Induction cooker, Microwave oven, Electric oven, etc.....
- Power tool: jigsaws, sanders and buffers and drill
- Office Equipment: PC computers with monitors, Needle or inkjet printer, laser printer, facsimile machines
MODEL

#
Smart

VMH

3024
Smart

VMH

3048
Smart

VMH

5048

Rated

Capacity
3000VA/3000W
5000VA/5000W
INPUT
Input

Format
L+N+PE
Rated

Input

Voltage
208/220/230/240VAC
Voltage

Range
170~280VAC(For

Personal

Computers);

90~280VAC(For

Home

Appliances)
Frequency

Range
50Hz/60Hz(Auto

Sensing)
OUTPUT
Output

Format
L+N+PE
Rated

Output

Voltage
208/220/230/240VAC±5%
Output

Frequency
50/60Hz±0.1%
Waveform
Pure

Sine

Wave
Transfer

Time
10ms(For

Personal

Computers),10ms(For

Home

Appliances)
Peak

Power
6000VA
6000VA
10000VA
Overload

Capacity
Battery

Mode:

1min@102%~110%

Load

10s@110%~130%Load
3s@130%~150%

Load

200ms@>150%

Load
Peak

Efficiency

(Battery

Mode)
>93%
>94%
>94%
BATTERY
Rated

Voltage
24

VDC
48

VDC
48

VDC
Constant

Charging

Voltage

(Can

Be

Set)
28.2

VDC
56.4

VDC
56.4

VDC
Float

Charging

Voltage

(Can

Be

Set)
27

VDC
54

VDC
54

VDC
SOLAR

CHARGER

&

AC

CHARGER
Solar

Charger

Type
MPPT
MPPT
MPPT
PV

Maximum

Input

Power
4000W
4000W
5500W
MPPT

Tracking

Range
120~430

VDC
120~430

VDC
120~430

VDC
Maximum

PV

Input

Voltage
450

VDC
450

VDC
450

VDC
Maximum

PV

Charge

Current
80

A
80

A
80

A
Maximum

Mains

Charging

Current
60

A
60

A
80

A
Maximum

Charging

Current
80

A
80

A
80

A
COMMUNICATION

INTERFACE
RS232
5PIN/Pitch2.0mm,Baud

Rate

2400
Expansion

Slot

Communication

Interface
2×5PIN/Pitch2.54mm,Lithium

Battery

BMS

Communication

Card,

WIFI

Card,

Dry

Contact

card,

Etc.
Parallel

Interface
No

Parallel
With

Parallel
Environmental

Parameters
Operating

Ambient

Temperature
0~40℃
Operating

Environment

Humidity
20%~95%(Non-Condensing)
Storage

Temperature
-15~60℃
Altitude
Altitude

Should

Not

Exceed

1000m,

Derating

Above

1000m,

Maximum

4000m,

Refer

to

IEC62040
Noise
≤50db
PHYSICAL

PARAMETERS
D×W×H(mm)
110×300×450
Weight

(for

Reference)
7kg
7kg
7.8kg
STANDARDS
EN-IEC

60335-1,

EN-IEC

60335-2-29,

IEC

62109-1
Performance Characteristics
450V wide PV circuit voltage can work for the load without battery connected (when the energy is sufficient)

Built in MPPT solar controller

Configurable AC/Solar input priority and output priority via LCD settings.

Wide and selectable AC input voltage range

Multiple protections of battery over discharge, overload, over temperature, short circuit

Automatically turn on after the mains is restored.

USB and RS232 monitoring functions