380v 3 Phase Industrial Online UPS
380v 3 Phase Industrial Online UPS
SVC

FOSHAN, China

20-30 days

GP33 SRRIES
Its advanced battery charging system enables the UPS to supply a long backup time while the charging time is rather short, and its temperature compensation system can help to prolong the service life of the vattery. Also, its circuit is simple, which reduces the number of components and makes the machine more compact and more reliable.

Its ture double-cpnversion online technology provides pure and safe power supply to all appliances, communication equipment and important loads connected to the internet, and the DSP technology responds quickly to different power supply problems, making sure its load will work uninterruptedly.

It is compatible to all kinds of loads and widely used in the fields of energy sources, transportion, office, medical equipment, engine-room, data center, toll station and so on.

Online Low Frequency 3 phase ups GP33 series 40KVA 60KVA 80KVA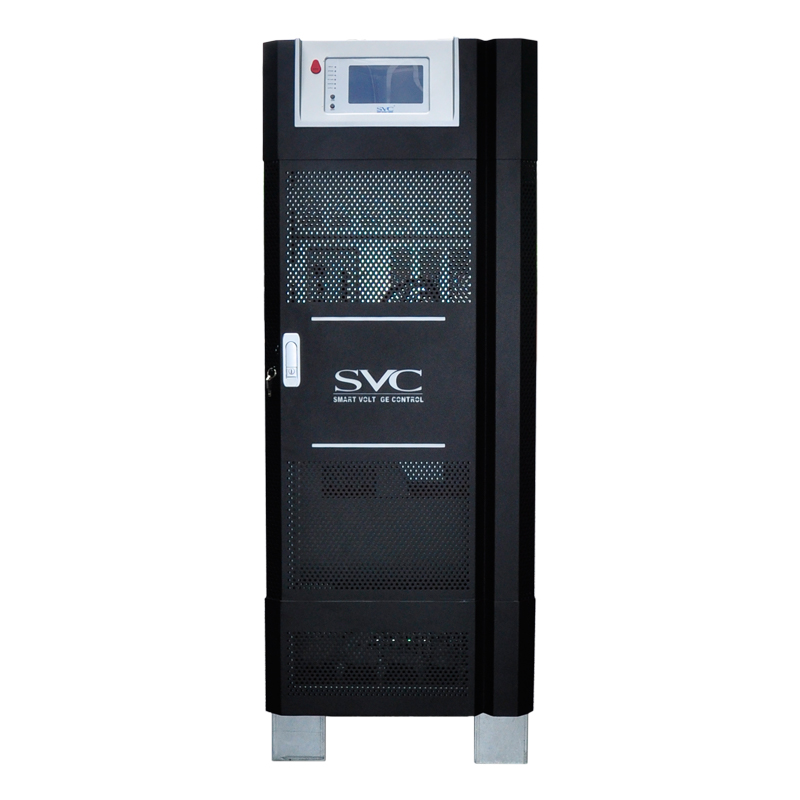 Application to office, computer facilities and industrial environments
Input and output: 3 phase in 3 phase out.
Feature:
1. High-efficient DSP chip
2. Outstanding electric property
3. Good looking and excellent hardware
4. N+X parallel redundancy (compatible to battery share in the parallel mode)
5. Frontal-board operation and maintenance
6. Twin-channel line input
7. Remote monitoring
8. Intelligent management of battery charging and discharging
9. Flexible battery arrangement
10. Flexible arrangement, change due to the need.
Model #

GP33 series

Capacity

10KVA

15KVA

20KVA

30KVA

40 KVA

60KVA

80KVA

100KVA

120KVA

160KVA

200KVA

INPUT

voltage

(208/308/400/480Vac) ± 20% / 5 wires (3 lines + neutral + ground)

frequency

50/60Hz ± 10% Auto sensing

power factor

0.98

filter

EMI, RFI

dual input

optional

OUTPUT

voltage

(208/308/400/480Vac) ± 20% / 5 wires (3 lines + neutral + ground)

frequency

50/60Hz ± 1% Auto sensing

Efficiency

AC/AC>92%

transfer time

0 ms

wave form

sine wave

power factor

0.8

voltage T.H.D.

<2% with linear load

crest factor

3:1

technology

true on-line double conversion controlled by microcontroller

overload recovery

automatically transfer to UPS mode

Isolation transformer

inverter mode (bypass mode is optional)

parallel connection

parallel connection function is ready (extra PCB is not reuired)

BATTERY

battery type

VRLA (valve regulated lead acid), not included

DC voltage

384 Vdc

charging time

4 hours up to 90%

battery detection

self-detect, transfer to battery mode adjustable

PROTECTION

lightning and transient protection

hot swappable lightning and transient surge suppressor (in:10Kamp, Up:1.5 Kv, I max: 20 Kamp.)

harware protection

input breaker, output breaker, battery breaker, bypass breaker; DC fuse, fan, redundant power supply; temperature sensor, EPO (Emergency Power Off), audible alarms etc.

software protection

discharging batteries, battery charger working mode, inverter working mode, emergency power off, manual shutdown, bypass SCR failure, bypass sequence failure, bypass over the limit, critical overload, batteries exhaustion, low or high output voltage, DC fuse open, 5V power supply failure, 13.5 power supply failure, inverter overvoltage, 200% overload on each line, transfer failure, inverter voltage out of range, over voltage betweenneutral and ground, UPS on bypass mode, bypass frequency out of range.

bypass

solid state

overload

125% for 10min, 150% for 30sec, 1000% for 16 millisecond

EPO

EPO local and/or remote

Display

LCD, touch screen

LED diagram

included

communication

RS232 intelligent slot, modem, SNMP(RJ45) (SNMP adaptive software is supplied by the producer)

ENVIRONMENT

elevation

1.700 m.o.s.l without derrating

temperature & noise

0℃~40℃/<60dB @1.5m.

humidity

0~95% non condensate

PHYSICAL

Unit dimension (mm)

L830*W402*H1050

L664*W865*H1548

L966*W890*H1748

L1160*W1043*H1900

Net weight (1pc, kg)

152.5

167.5

193.5

222.5

362.55

434.05

534.05

670.05

746.05

1120

1320
Performance Characteristics
Advanced communication function
With the use of communication interface and monitoring software, you can monitor this UPS on your computer, which simplifies the management of power supply. You can also choose to buy a SNMP card, which is compatible to all kinds of operating system, and supports TCP/IP, SNMP,HTTP protocol, so as to monitor the UPS through internet. Moreover, it will be easier to achieve central maagement even users are scattered in different places and it can also diagnose network and maintain the system remotely, realizing global managemnent in a very real sense.
Software monitoring through RS232.

Monitoring through network adapter.

Monitoring through GPRS