Micro DC UPS 18W 10000mah DC output power supply with 5v 9v 12v USB POE for WiFi router camera
Micro DC UPS 18W 10000mah DC output power supply with 5v 9v 12v USB POE for WiFi router camera
SVC or OEM

Guangdong, China

around 15 days after order confirmed

100000

ECO 1836
Small uninterruptible power supply for power outage
1. Supporting fast delivery within 15 days
2. Power: 18W
3. Input voltage: built in AC adapter with 100~240vac
4. Battery: Built in 10000mah lithium battery
5. Output: USB 5V, DC 5V, DC 9V, DC 12V, POE 15/24V, total 1* USB port, 3*DC port, 1*POE port
6. Multiple smart protections: short circuit protection, voltage fluctuation protection, overcharge protection, over discharge protection, temperature protection, safe to use.
7. Application: router, modem, security camera, smartphone, fax machine, fingerprint recorder, DSL, ect, and can still use the network in case of power outage.



18W Mini DC UPS with 10000mAh Lithium Battery for Router, Modem, Security Camera

This ECO1836 mini DC UPS is simple to install and allows you to power various digital devices during a power outage. With multiple- voltage DC outputs, this ups can power both router and modem, so you can continue browsing the web, working online, or streaming. Security cameras and VoIP phones can also be connected and powered via Power Over Ethernet ( POE ) port. Charge mobile devices such as cell phones and tables via USB. featuring 4 high- capacity lithium- ion ( 10000mAh ) batteries with safety protocols such as over- charge, over- discharge, and short circuit protection.
!!! This model support fast delivery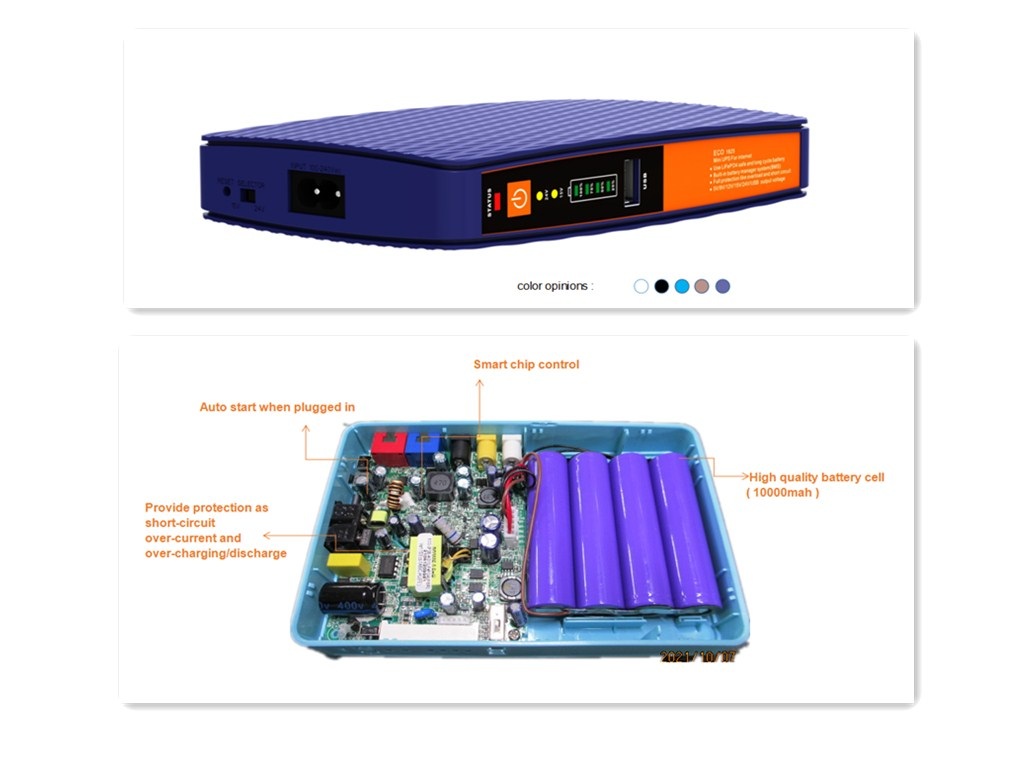 Suitable for the WIFI router, CCTV, MONITOR, Camera, POE VOIP, POS machine communication processor,industrial products which for the home, enterprises,government,scientific research,traffic,national defense,information and education industries.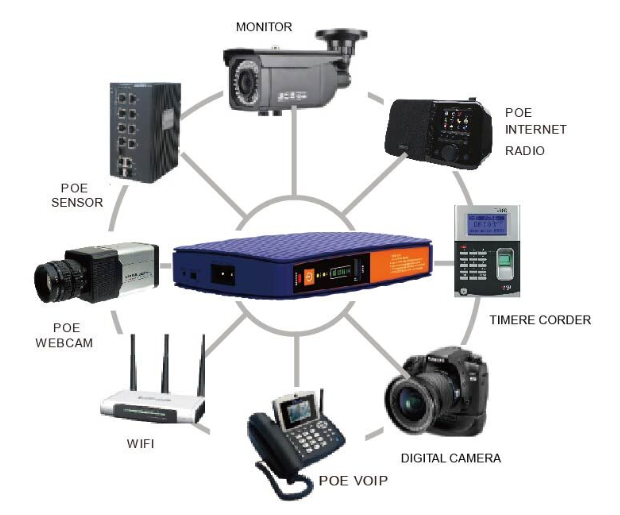 ECO series Mini DC UPS

Model #

ECO 1825

ECO 1836

Capacity

18W

Piture




INPUT

Input voltage range

100~240vac

Input frequency range

50Hz / 60Hz

OUTPUT

Output

USB interface

DC interface

POE interface

Output Voltage(selectable)

5Vdc

9Vdc

12Vdc

15Vdc / 24Vdc

Output polarity

standard

+4,5 pins-7,8 pins

Output power & current (in common)

2.0A /10W

1.0A

/ 9W


1.0A/ 12W

(0.8A/15V)0.5A/12W or 24v

QTY.&capacity of battery

2000mAH*4(8000mAh) LiFePO4

2500mAh*4 (10000mAh) lithium battery

CHARGE

Charging period

Typical:2-3 Hours

PHYSITAL

Unit dimension(mm)

160*105*28

Net weight(Kg)

0.4

MANAGEMENT

Environment of performance

Temperature 0℃~40℃, Humidity 20%~90%

Noise level

less than 40dB
Performance Characteristics
1. Optional output 5V//9V/12V/24V

2. Special for output 5V USB

3. Built-in adapter suitable for wide range of voltage (100V~240V)

4. Protection of under-voltage, overvoltage, overload, over-temperature and short circuit.